A Mother's Day Tale of a Dad Nearly Killed and the Woman Who Preserved the Family
BY TOM GRIFFITH/Rapid City Journal
It is the stuff from which legends are born and movies are made.
The story of the late Pennington County 7th Circuit Judge John L. Fitzgerald began on the rougher backstreets of Boston, expanded to include the mob, hit men, car bombs, armed guards and his eventual escape with his wife and five children to the American West.
Even a dozen years after Fitzgerald died, the ripples of his life are being witnessed in a slew of lawyers he left in his wake. As of Saturday, Fitzgerald and his ex-wife, Carol Fitzgerald Simpson, can lay claim to eight attorneys among their progeny.
Several years into his legal career, Fitzgerald nearly paid for his success with his life. And in that frightening time, Carol was the foundation that provided the family's stability.
So for this Mother's Day, her son John H. Fitzgerald, the Lawrence County state's attorney, paid tribute to her.
"My mother was very strong, because a lot more pressure was put on her because of what happened to my dad," John said. "She was the one charged with raising five kids while my dad spent time recovering, and she suffered a lot. But she was strong, even when she was tested."
The story begins when Carol met John on their first day of class in ninth grade at a Christian school in Boston.
"I was 13, and he was 14," Carol, now 82, said last week from her home in Rapid City. "The first day of school they had a chapel service, and he came down one side of the aisle, and I came down the other side, and we met in the middle.
"The first thing he said to me was,`I am going to be a criminal lawyer,'" Carol recalled. "I thought the lawyer part was pretty forward thinking for a ninth-grader. And that's what happened; he became a criminal lawyer."
The couple married in 1954, spent a year in Germany on an ROTC assignment, had three boys and two girls and re-settled in Boston when John attended law school. He was a bona fide Boston attorney in 1968, when he was assigned to defend Joe Barboza, reputed to be the Italian Mafia's deadliest hit man.
After bodies of Italian and Irish mobsters had stacked up like cordwood in an ongoing turf war that was waged for years, the fact Barboza was a star witness against a high-ranking mob boss and Fitzgerald was defending the snitch didn't sit well with either side of the aisle.
On Jan. 30, 1968, John got in his car, turned the ignition key, and his entire life changed. The car exploded from 10 pounds of dynamite that had been concealed beneath it. John lost his right leg, the blast broke the other and left the young father with such severe injuries that doctors didn't think he would survive.
"I was only 12 when it happened, when my dad was bombed and nearly murdered," his eldest son, John H. Fitzgerald, said last week. "I was well aware of what was going on. It was on the front page of the newspaper, and I was delivering the newspaper.
"They didn't think he would make it and they brought me to the hospital that night so I could see him before he passed away," Fitzgerald added. "They wanted me to say goodbye before he died. He was my hero, so it made it even worse."
But with Carol's help, John survived and thrived, testifying from his wheelchair in court and helping send five men to jail in connection with the car-bombing. Guarded around the clock by Boston police and FBI agents throughout his convalescence and court proceedings, John still feared for his family and worried that the Mafia would return to finish the job.
Their protectors "decided that we had to leave Boston, and when John finally could walk, they were going to send us to the island of Truk in the South Pacific and they offered him the superintendent of that trust territory," Carol explained. "But that failed because they didn't know we had five children, and they didn't have accommodations on the island of Truk for a family our size."
Instead, in 1969 the Fitzgerald clan was moved to Aurora, Colo., with law enforcement agents still protecting them. John went to work in the legal department of the Small Business Administration. After three years on the job, he accepted a short-term assignment in Rapid City, which had just been devastated by the disastrous flood.
"It was supposedly a temporary assignment, but the way it worked out it wasn't temporary," Carol said, laughing. "So we moved to Rapid City and two years later, John went back into private practice."
After 31 years of marriage, he and Carol divorced in 1985. She remarried in 2003, to Frank Simpson. Her highly respected ex-husband was named a circuit court judge in 1993 and served until his death in 2001.
In a lifetime of accomplishment, John left his imprint and his admiration for the law in a legacy that now spans generations. And he and Carol instilled a strong sense of faith and family in what has evolved into an extended assortment of attorneys.
Son John H. has been a prosecutor since 1980, and Lawrence County state's attorney since 1990. His brother, Mark D. Fitzgerald, is an attorney with Fitzgerald, Vetter, Temple Law Firm in Norfolk, Neb. Grandson John M. operates the Fitzgerald Law Firm in Rapid City, working alongside his fiancée, attorney Kelly Peterson. Granddaughter Megan Fitzgerald Poppen is an assistant U.S. attorney in Rapid City, while her husband, Brett Poppen, is an attorney with the firm of Beardsley Jensen & Von Wald with offices at Canyon Lake. Granddaughter Katherine E. Fitzgerald, is a lawyer with a large firm in Omaha, Neb.
And on Saturday, granddaughter Sara J. Fitzgerald graduated from the University of South Dakota School of Law, becoming the latest in a long line of Fitzgerald lawyers.
Three of John and Carol's offspring did not join the bevy of barristers. Son Timothy, who actually attended two years of law school at USD before dropping out to join the Army, is director of the West River Children's Home at Rockerville. Daughter Cara Beth is a teacher in Alaska and daughter Elyce, who holds a degree in human resources, lives in Rapid City.
"Our home was kind of like a law school," Carol said. "John would refer to the legal side of everything, the newspaper stories, and the criminal side of life. I think it was ordained that so many of our children and grandchildren should pursue the law."
Son John says there is nothing surprising in the fact that so many Fitzgeralds are intimately involved in the legal profession.
"Considering what happened to my father, I don't think it's that rare or unusual that so many of us became lawyers," he said. "It's the silver lining in a bad childhood experience. Everyone is trying to do something positive with their lives."
While his father taught him to respect the law, John said his mother taught her children the precepts of tolerance, faith and family.
"She has never found fault with anybody through the accident of their birth," he said. "My mother taught us tolerance and forgiveness and she has a wonderful Christian presence.
"I love her."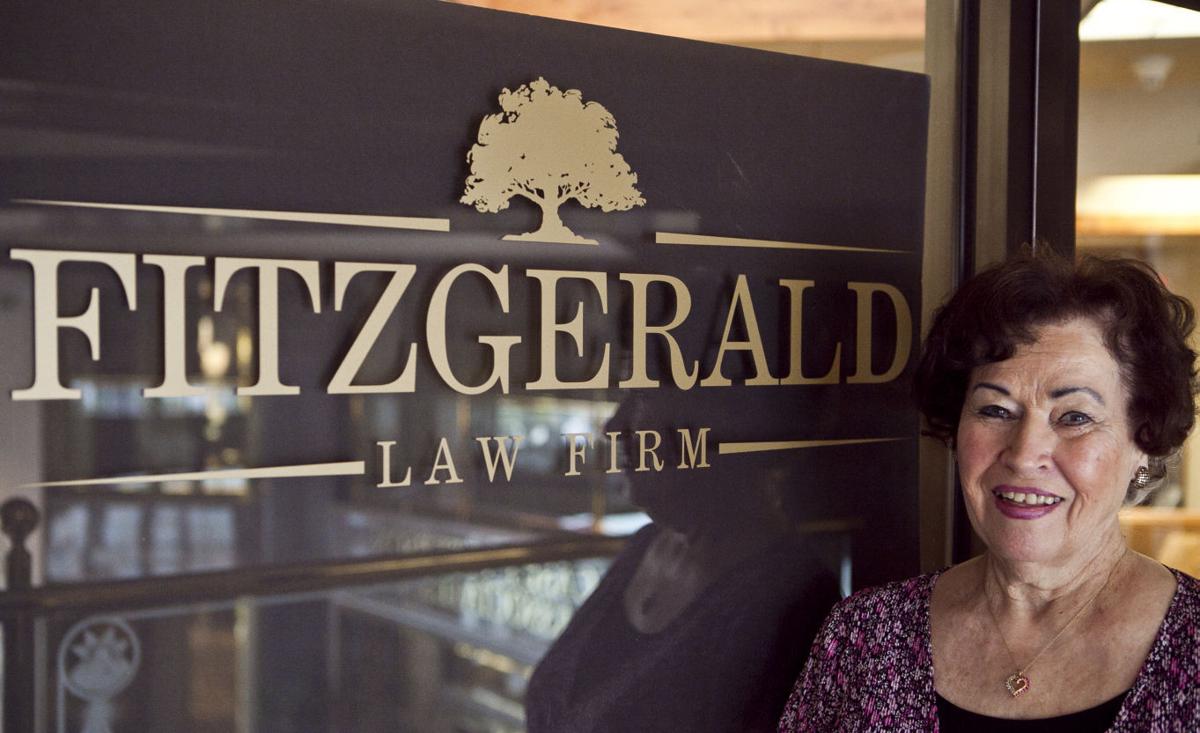 Rapid City Journal/Sean Ryan
CAROL FITZGERALD SIMPSON, the ex-wife of late Pennington County 7th Circuit Judge John L. Fitzgerald.
Griffith, T. (2015, May 10). A Mother's Day tale of a dad nearly killed and the woman who preserved the family. Retrieved from Rapid City Journal: http://rapidcityjournal.com/news/local/a-mother-s-day-tale-of-a-dad-nearly-killed/article_0317a5b6-e8ed-5e3d-b7d2-9ff4c454aefb.html
Posted on: Sunday, May 10, 2015
Last modified on: Wednesday, June 14, 2017